Thanks for being a valuable member of The Brace Life community! You're part of a special inner-circle of clients and collaborators who have been a great support to our mission and we want to show our appreciation.
We'd like to celebrate with you and your friends by throwing you a complimentary VIP wellness soiree at Brace Life Studios.
Your rejuvenating, wellness soiree comes complete with fun group movement exercises, stretch, uplifting meditations and affirmations. This experience is designed to help you connect with the love and comradery of your friends while enjoying some pampering and wellness. Your friends will enjoy our signature juices and healthy cocktails, complimentary wellness gift boxes and much more.
See below for full details. Simply reply to this email,  let us know when you would like to schedule your soiree and we will get back to you to discuss details.

Breathe
As you enter our studio your guests will be greeted by the calming yet energizing scent of lavender, eucalyptus and citrus; preparing their minds and body for your workout.
Be Served
Your guests will be welcomed with a refreshing, energizing, natural juice shot at The Brace Life Bar. They will also be served with a healthy exotic fruit platter. Chilled fruit infused water is also available. Combinations include: lemon and cucumber, orange and sage, cucumber and mint.
Workout & Deep Stretch
Choose your workout format: All workouts are designed to be interactive and deepen the bond between you and your guests.
Center &  Align: A body aligning, core strengthening, posture improving workout that builds strength, peace and alignment.
Sculpt & Sweat: A high Intensity HIIT: A fun, interactive body sculpting, fat-burning, form-focused workout.
Stretch & Breathe: All workouts end with a restorative, stress relieving, deep stretch and breathing exercises.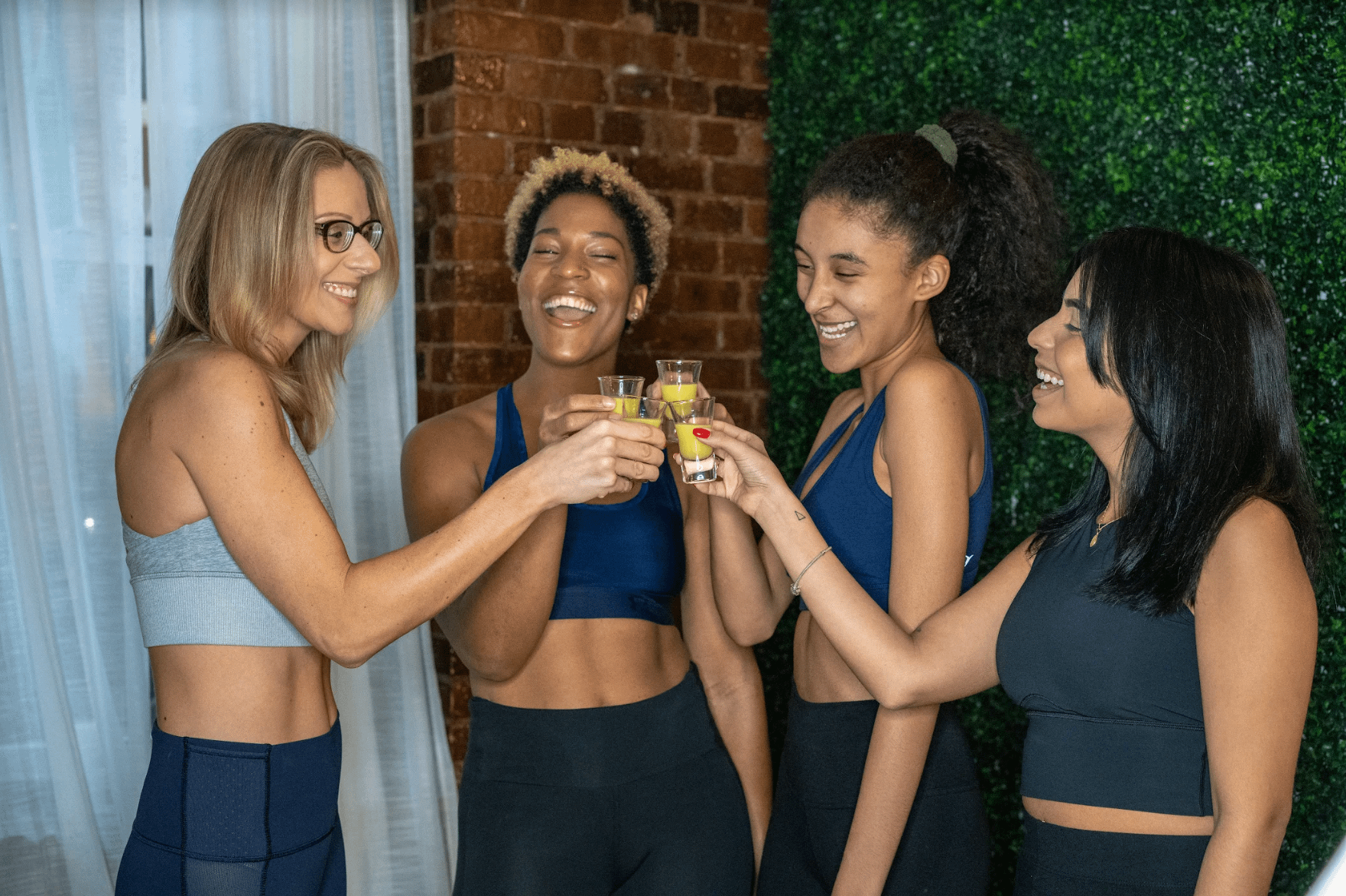 Chill & Revive
Wipe down with a chilled eucalyptus-infused towel as you enjoy a cool, revitalizing glass of fruit-infused water. Juice shot options are also available.
Meditation & Mask
Your workout is followed by two meditations: A short soul-lifting guided meditation with our immersive, noise-canceling headphones, while you wear a refreshing cooling eye gel mask to calm the senses and reduce inflammation. You will also experience a group meditation designed to help you connect with  the love, strength, power and beauty of your group collectively.
Honoring Ceremony
A special, secret honoring ceremony.
Gift Box & Online Access
Your guests will all leave with a wellness gift box that includes a selection of wellness products to help you continue to live your wellness lifestyle outside of the studio.
Wellness Toast
Your guests will then Indulge in a healthy, post-workout cocktail as they toast to your health and wellness. Our natural, post-workout drinks will elevate your mental and spiritual state, regulate your emotions and give you energy.